European Capital of Innovation Awards
Interested in raising the awareness of innovation in your city? Then perhaps the European Capital of Innovation Awards (iCapital) are for you!
Categories
The awards, which were opened this month, are supported by the European Innovation Council (EIC) under Horizon Europe. The contest will award six prizes in total for the two categories:
The European Capital of Innovation 
The Rising Innovative City.
Award
The city winning the 2022 European Capital of Innovation title will receive €1 million to ensure that its best innovative practices are shared and multiplied. The first two runners-up of this category will be rewarded with €100 000 each to support their innovation activities.
In the Rising Innovative City category, the winner will be rewarded with €500 000 and two runners-up will receive €50 000 each to scale up their innovation ecosystem.
Award and eligibility criteria
The competition is open to cities with a minimum of 50 000 inhabitants from EU Member States and countries associated to Horizon Europe. Two high-level juries of independent experts will evaluate applications by looking at the following criteria:
Experimenting to make the city a test-bed for innovative practices;
Escalating and accelerating the growth of start-ups and SMEs;
Ecosystem building and fostering of synergies among the public sector, industry, academia and the general public;
Expanding the city's innovation capacity to become a role model for other cities;
City innovative vision that positively transforms the city and develops a sustainable innovation ecosystem.
The prize is managed by the European Innovation Council and SMEs Executive Agency. Further details can be consulted in the rules of the contest.
Through the award, the European Union recognises cities with inclusive innovation ecosystems. The prize identifies cities that connect the general public with academia, businesses and the public sector to successfully translate results into improved well-being of the society, while at the same time boosting game-changing innovation. 
Past winners include Barcelona (2014), Amsterdam (2016), Paris (2017), Athens (2018), Nantes (2019), Leuven (2020) and Dortmund (2021).
Image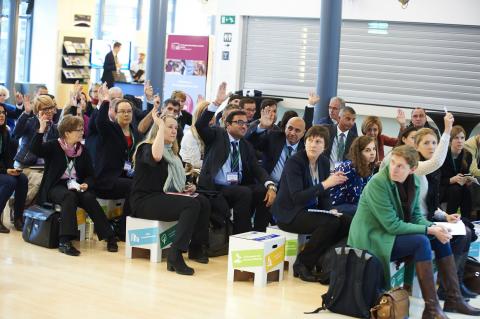 The contest is open for applications until 30 June 2022 (17:00:00 CET).