Project summary
About GREENHEALTH project
GREENHEALTH project aims to make EU regions more biodiversity-resilient by improving the management of European Protected Areas through strengthening links as well as strategic & operational collaboration between biodiversity protection and human health & well-being.

Protected Areas in EU are a key tool, not only for the preservation of nature & biodiversity conservation but also for the provision of multiple benefits in ecosystem services.

The COVID pandemic has further emphasised the relevance of natural spaces for human well-being and led to an increased number of visitors to Protected Areas.

If this phenomenon has positive impacts for Protected Areas with people increasingly value them, it is also true that there is a risk to biodiversity if the public use of Protected Areas is not appropriately managed.

It is urgent to improve and adapt public policies related to the management of Protected Areas. This way, it will be possible to achieve resilient spaces that are accessible and improve European citizens' well-being, without compromising the environmental objectives.
Our partnership
Our partnership includes rich and diverse setting across all European regions, striving together to improve health and human well-being of the population through natural assets and protecting biodiversity at the same time!
Who we are
Lead Partner:
Autonomous Community of the Region of Murcia – General Directorate of the Natural Environment, (Spain)
Partners:
Podkarpackie Region (Poland)
Public Institution for the management of Protected Natural Areas of Dubrovnik-Neretva County (Croatia)
Northern and Western Regional Assembly (Ireland)
The Prešov Self-Governing Region (Slovakia)
Kullaberg Nature Reserve (Sweden)
EUROPARC Federation (Germany) / advisory partner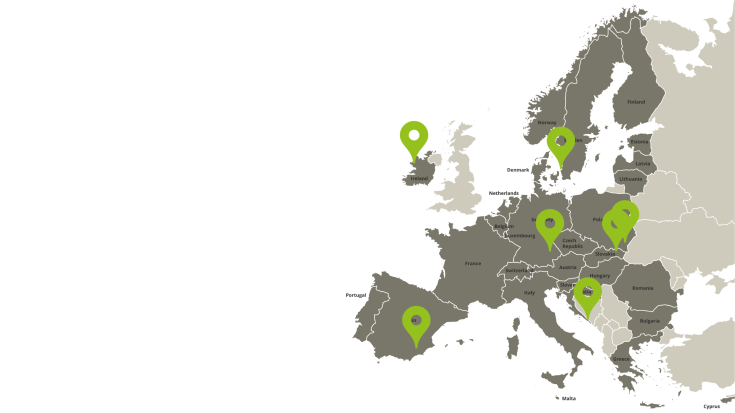 What will this project change
We want to remove environmental barriers and design friendly spaces, to encourage people to take care of nature and of their own health, and to incorporate human health initiatives into Protected Area Programmes.
Our seven partners want to create linkages between health and environmental policies, leading to engagement with the health sector, with universities and with other areas of the society to help us to have both ENVIRONMENTAL AND SOCIAL IMPACTS.

We will develop networks, foster collaborations and the exchange of expert knowledge. We aim to identify, transfer and adopt innovative and successful good practices and lessons learned across Europe.
Our final goal is to improve regional public policies and to create the right regional contexts to maximize the links between Protected Areas and health and well-being!