Project summary
The Governing Community Resilience (GOCORE) project builds resilient regions by increasing local engagement and participation.
In the face of major societal challenges like the climate and digital transitions and socio-demographic developments like ageing, de-population and migration, regions can only effectively govern the development of their territories when communities – citizens, civil society, and small businesses – are active partners in policy making and implementation.

This is especially true for rural and peripheral regions characterised by small populations, scattered resources and limited public facilities. These regions must create conditions where all community actors can contribute to the design and implementation of policies that affect their lives and community. This means effectively gathering and using their ideas and needs to define policies and providing tools for actors to autonomously implement changes in their communities. In other words, building Resilient Communities.

Facilitating resilient communities is a horizontal challenge, relevant to all fields of regional policy. When rural/peripheral regions have the capacity to integrate effective mechanisms for community engagement and empowerment in the governance of their regional policies, they are much better placed to tackle the major societal challenges of today.
Partners
GOCORE partners come from Fryslân (NL), Syddjurs (DK), Madeira (PT), Saaremaa (EE), Coimbra (PT), Hajdú-Bihar (HU), Trento (IT) and the German-speaking community of Belgium – with complementary experiences in community engagement and empowerment across a broad range of policy fields.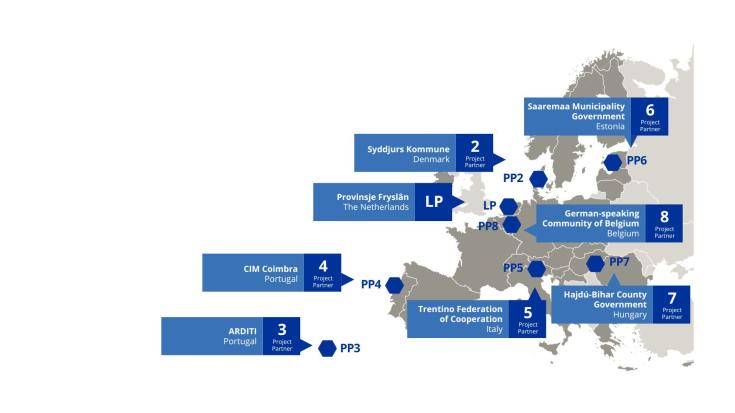 What will this project change
The aim of the GOCORE project is to increase the capacities of our rural/peripheral regions to involve their communities as active partners in the development and implementation of regional policy.
We will exchange and implement governance practices for the engagement of communities in policy delivery, the empowerment of community actors to autonomously implement actions in support of regional and community development and for the demonstration and communication of the impact of community action.