The Policy learning week: Research and innovation day
Event
Smart
S3, Industrial transition & entrepreneurship
16 Mar 2022
11 : 30 - 18 : 00 CEST
Online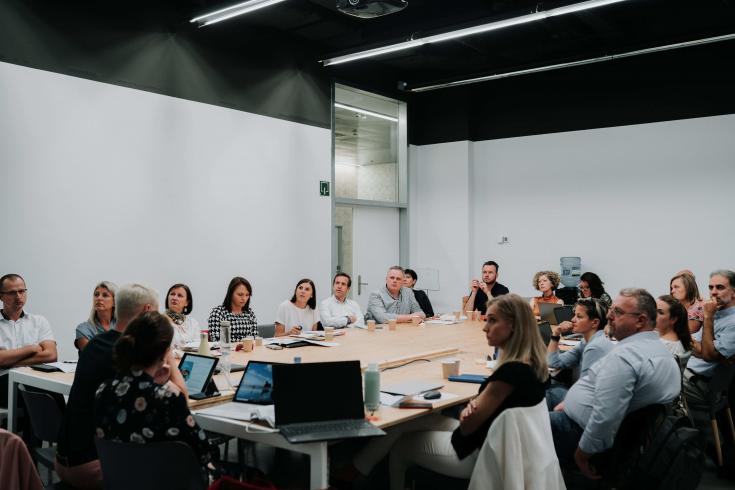 On 16 March, we are organising a dedicated Research and innovation day as part of our Policy learning week! During this day, we have organised several sessions around the topic of Research and innovation, with a dedicated workshop on implementing S3. Explore the full agenda below. 
Agenda
Explore the activities and choose the sessions you would like to attend! Register today.
Ask an expert session | 11:30 – 12:00 CET
A dedicated session where we ask our experts, Marc Pattinson and Arnault Morisson, questions coming from the community! Topics we will be discussing:
Digital innovation hubs
University-industry collaboration

Travel with us to Biel, Switzerland |12:00 – 12:30 CET
The third stop of our virtual European tour will take us to Biel in Switzerland, as part of our research and innovation day. During this online study visit we will present the Interreg Europe project DIGITALREGIONS with its Swiss partner, the Swiss Smart Factory.
DIGITALREGIONS aims at adapting innovation policies to support the manufacturing sector as a result of the emergence of Industry 4.0. In this video, we will put the spotlight on two good practices, the Digitalisation Parkour and the Open Platform for the Adoption of Digital Innovation which focus on how industry 4.0 can boost SME competitiveness.
Online workshop on implementing S3 | 14:00 – 17:00 CET
Smart Specialisation strategy (S3) is a place-based innovation policy concept to support regional prioritisation in innovative sectors, fields or technologies through the 'entrepreneurial discovery process (EDP)', a bottom-up approach to reveal what a region does best in terms of its scientific and technological endowments (Foray, David, Hall, 2011). 
The concept of smart specialisation is implemented through policies requiring policymakers to design calls and select projects for funding. The JRC Seville S3 Platform has identified 5 categories of interventions to support S3 implementation. They are:
Launching strategic initiatives, which are bold actions that involve quadruple helix around a S3 priority domain.

Re-orienting existing programmes by adding a new criterion dedicated to the 'contribution to the smart specialisation areas' in competitive programmes

Changing strategic agendas from existing operators through aligning actors to respond to S3 priorities.

Aligning infrastructure to relate them with the S3 agenda.

Setting up S3 fora by establishing platforms or fora gathering for the key actors of the S3 domains.
This workshop will allow regions to share their experiences and practices on implementing S3 considering Grand Societal Challenges more specifically on raising stakeholders' awareness of key challenges regarding S3 implementation.
The session will be organised around two to three interactive thematic working groups. Participants will be encouraged to prepare a slide and present how their regions are implementing the S3, if any (1 slide/2 minutes). 
For more information, check out the draft event's agenda and register today!
Online policy helpdesk | 17:00 – 18:00 CET
Do you need advice on a specific regional challenge? Book a 10-minute individual meeting with our experts at the end of the workshop!
Other Policy learning week events
Organised over the course of a week, from 14 to 18 March, we are bringing you several dedicated thematic events, register today!
This week will be the opportunity to meet like-minded participants, exchange good practices and experiences, create synergies and learn more about our services and how we can help you.