Image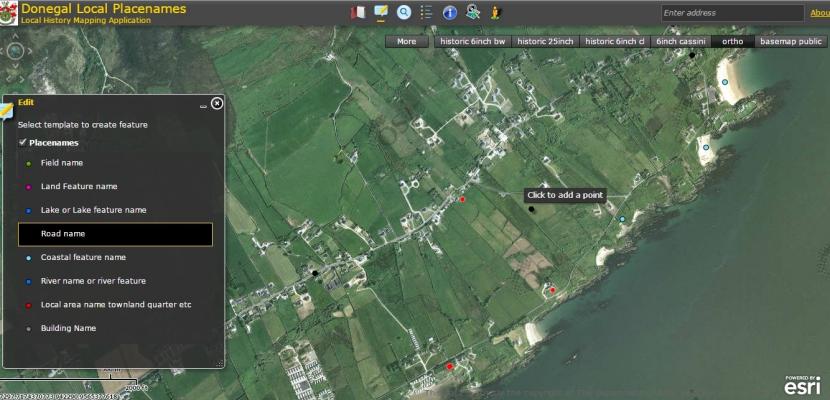 GIS Participative tools in County Donegal
Published on 28 March 2018

Ireland
Burgenland
Programme Manager
About this good practice
This project is an attempt to curtail a loss and capture local knowledge in a geographic database and share publicly through web mapping. By working with local historical societies in County Donegal we have setup a web mapping application for local communities to "crowdsource" local field names etc into a database. Working together with identified local champions and holding information sessions in locally, we were able to build up active digitising communities. This is the first crowdsourcing project of its kind in Donegal, and we consider it our role to provide functionality, access to mapping and training to our citizens. Access to paper produced mapping can be very costly to voluntary local groups with limited funds, so this online application provides that access in a digital format for free. The application also has the added benefit of capturing the information once and storing it permanently in a database..
The database is presented in an easy to use Crowd Sourcing map application through the Donegal Map Portal; http://donegal.maps.arcgis.com. Edits are immediately available through the systems to any users anywhere.
The application will ultimately form another database for genealogical research which will be an invaluable resource for tracing family histories, researching local landscapes, and recording folklore.
Main beneficiaries are Donegal County Council (provider of the service) and the community becoming part of the solution of an improved service. Sign up to see the expert opinion
Resources needed
The service has been developed by internal staff and deployed on the existing web and webGIS infrastructure. This deployment guarantees a secure and maintained service, fully compliant with all DCC Information Systems policies. Financial resources needed have been moderate.
Evidence of success
The achievements and results are identified below:
• Effective local participation and stakeholder engagement
• Creation of educational/research tool for active use by local communities
• Educated Local groups in WebGIS tools
• Capturing and preserving a rich but vulnerable oral history
• Reduction of costs by making the process much more effective
Potential for learning or transfer
Some of the considerations to be taken when importing this good practice are:
• Lessons learned through engagement with community groups enhances the organization's ability to meet the needs of our citizens across the range of services provided by DCC
• The knowledge gained in developing this project can be applied to other similar style crowdsourcing opportunities requiring public consultation.
• Increased level of crowdsourcing applications will incur increased levels of budget and resource demands to develop, operate and maintain the applications.
• Levels of engagement are dependent on the level of local interest in the potential outcomes. Managing expectations of uptake and what can be delivered to be identified at planning stage and reviewed throughout the course of the project.
• Engaging with both local and online communities through all available communications means to raise awareness of the benefits of the project to address potential digital divides.
Further information
Website
Good practice owner
Organisation
Donegal County Council

Ireland
Contact
Programme Manager