Adaptive reuse of religious heritage
Image
Story
In December 2018, the European Commission presented the European Framework for Action on Cultural Heritage, which strongly encouraged smart restoration and adaptive re-use of heritage buildings, and supported sharing of good practices and promotion of excellence in this field. Adaptive reuse of heritage assets is also appearing in agendas on urban and regional development, quality of built environment, architecture, greening and circular economy.
Adaptive heritage reuse is often seen as fundamental to sustainable urban development since it can contribute to the preservation of cultural and historical value in a place, while concurrently serving as a catalyst of local and regional economic development. Renovation and transformation of heritage sites has many benefits, including strengthening local traditions and culture, offering unique tourist experience, contributing to urban regeneration and citizen involvement. Reuse of old buildings also has a positive environmental impact, as the consumption of new materials is reduced. The connection between cultural heritage and environmental sustainability was recognised in the European Cultural Heritage Green Paper (published in March 2021), which shows the relevance of cultural heritage for achieving the ambitious goals of the European Green Deal.
The impact of the Covid-19 pandemic on cultural, creative and heritage sectors makes the topic even more relevant and provides an opportunity to revise regional policies. Inspiration can be found, for example, in best practices coming from the Interreg Europe project KEEP ON, which focused on long-term sustainability of cultural heritage projects or the Local Flavours project, exploring cultural heritage in less-advantaged locations.
Adaptive reuse of religious heritage
Religious heritage is a central element in Europe's urban and cultural landscape. Despite the historical value, more and more churches and monasteries are losing their original purpose because of secularisation and social demographic changes. Many religious sites end up underused, vacant or even demolished. Out of all historic buildings, adaptive reuse of the religious heritage sites is particularly valued as a significant community amenity.
In the Netherlands, one in five churches is no longer used as a place of worship, amounting to 1,400 churches out of 6,900 around the country. The landmark buildings are often redeveloped into homes, cultural centres, hotels, libraries and even night clubs with some becoming famous tourist attractions. According to experts, more churches are expected to be de-consecrated in the coming years.
The Dutch city of 's-Hertogenbosch has direct experience with repurposing religious heritage buildings and has already successfully finished several projects. Marieke Muilwijk, advisor at the Municipality of 's-Hertogenbosch explains: "In the Netherlands, religious buildings are privately owned, and we are really lucky that we are able to take them out of religious use and repurpose them. That would be unthinkable in many other countries. But we are keen to keep the religious buildings for the next generations if the former utilization is no longer possible and make sure to meet the right balance between a future commercial use and the social function of the past." 
Balancing commercial use and social function
One of the first projects in 's-Hertogenbosch was the redevelopment of a former monastery into the Soete Moeder hotel, providing accommodation, serving as a venue for meetings, conferences and events, or as a restaurant serving meals from sustainably and locally sourced products. The hotel is run as a social enterprise, which has an associated foundation to offer a workplace and an opportunity to young people in need. Every year, the foundation selects 20 jobseekers who are 16 to 26 years old and have a difficult starting position. Under the supervision of socially engaged professionals they gain practical experience and professional skills in the hospitality industry in the role of a cook, host/hostess and facility support employee.
Image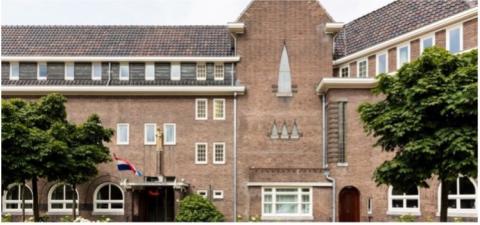 The Soete Moeder hotel in 's Hertogenbosch - Image credit: de soete moeder
Another example of adaptive reuse in 's-Hertogenbosch is the redevelopment of the Mariënburg monastery into a university campus of the Jheronimus Academy of Data Science. In addition to the university, more than 3,500 m2 of office space is available for companies working in data science. The campus also offers 77 furnished apartments.
The redevelopment of the monastery was part of a collaboration project between two universities, and has helped preserve a historical landmark and revitalise a part of the city by bringing in students. Two churches have recently been transformed. Heilig Hartenkerk (Holy Hearts Church) has turned into private apartments, one of which became home to the city's mayor. San Salvator Church was transformed into a health centre, with two on-site physicians, a pharmacy, speech therapist, physiotherapist, and a range of activities for the elderly. The baptistery was left completely intact and open for the public, so that with its new purpose, the church still remains accessible for all.
Image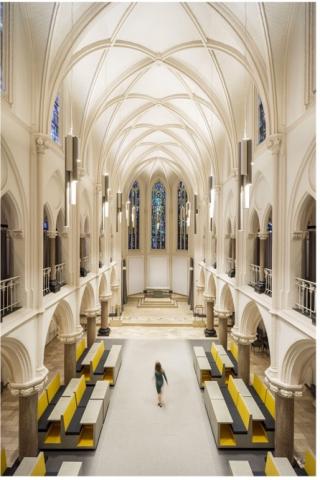 The reused monastery chapel at the Mariënburg campus in 's Hertogenbosch - Image credit: BiermanHenket
The role of municipality in repurposing religious heritage
Even though municipalities in the Netherlands do not own the religious heritage, they can influence and support adaptive reuse. The city of 's-Hertogenbosch uses three main channels:
Responsibility for changing the buildings' function in the zoning plan, discussing these changes with local citizens.
Keeping a digital database of heritage sites, which enables planning ahead.
Providing financial support – financing a transformation of religious heritage is much more costly than new development, therefore the municipality provides support through national and European funds.
Apart from the high cost, there are several regulatory requirements for adaptive reuse projects. In case of the above-mentioned examples, an essential success factor was "the energy and stubbornness of the project owners, who really wanted to make use of the abandoned buildings, regardless of all the complications. It would have been so much easier to build something new, but they wanted to improve the local neighbourhood. They were not ordinary investors." explains Marieke Muilwijk, advisor at the Municipality of 's-Hertogenbosch.
"It is essential for any religious or non-religious heritage that the building lives and is part of society." - Marieke Muilwijk.
For any municipality inspired by the Dutch approach and interested in repurposing religious buildings, Huibert Crijns from the Heritage department at 's-Hertogenbosch municipality has the following advice: "The moment a church can become part of an adaptive reuse should not be a surprise. Plan ahead, stay informed and discuss with the owners, because you can already predict when churches will become abandoned. Do as much as you can to save the buildings".
Image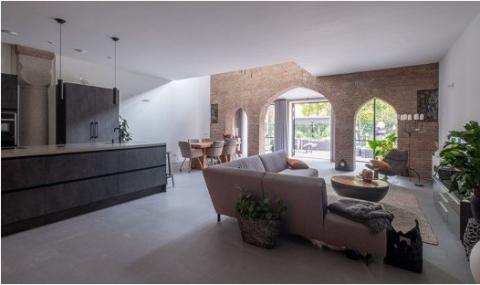 The apartment at former Holy Hearts Church in 's Hertogenbosch - Image credit: de Bonth van Hulten
For more inspiration and information on cultural heritage and adaptive use of religious buildings: