Pre-commercial public procurement: Key learnings
Image
Webinar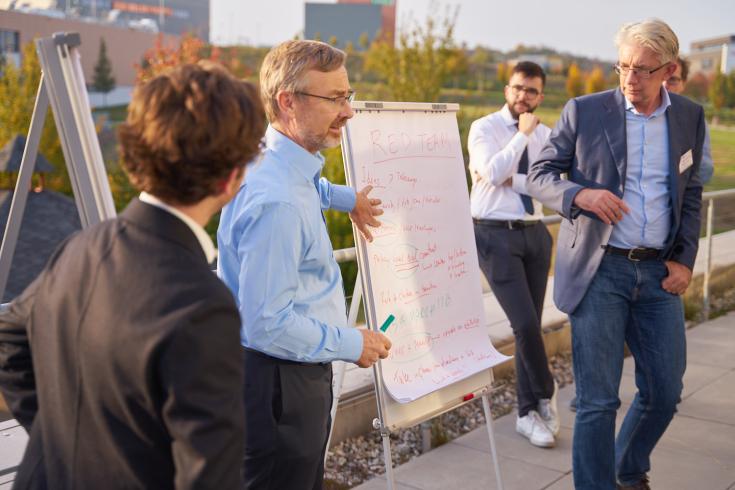 On 6 June 2023, the Policy Learning Platform held a webinar on the topic of Pre-Commercial Public Procurement (PCP). PCP challenges the industry from the demand side to develop innovative solutions for public sector needs and provides a first customer reference that enables companies, especially SMEs, to create a competitive advantage in the market. PCP enables public procurers to compare alternative potential solution approaches and filter out the best possible solutions that the market can deliver to best address the public need.
The European Commission is increasingly supporting pre-commercial procurement approaches, especially through its main R&D programmes such as Horizon Europe in two complementary ways:
In some cases, public sector challenges can be addressed by innovative solutions that are nearly or already in small quantity on the market and don't need any significant new research and development (R&D) actions. This is when Public Procurement of Innovative solutions (PPI) can be used effectively.
 
In other cases, the required improvements are so technologically demanding that there are no near-to-the-market solutions yet available and further  R&D is needed. Pre-Commercial Procurement can then be used to test and compare the pros and cons of alternative competing approaches – often at TRL levels of between, 4-6 - and to de-risk the most promising innovations step-by-step via solution co-design, prototyping, development and first product testing.
Pre-Commercial Procurement has been explored in different Interreg Europe projects and this webinar featured practices and lessons learned from iBuy that aim to foster the role of public authorities as demanders of innovation through public procurement.
Policy Learning Platform online resources, such as the recent policy brief on Innovation Procurement were also shared.    
Participants also showcased practical steps to develop PCP activities, for example how to organise Open Market Consultations that are an essential step in designing good PCP actions.
Webinar agenda
Concept and moderation by Marc Pattinson and Laura Varisco, Thematic Experts of Research and innovation.
00:01:19 Introduction to the topic by Marc Pattinson
00:11:31 Keynote speech by Lieve Bos, Policy Officer Innovation and Green Procurement, European Commission, DG CNECT
00:26:27 Q&A: How do procureres work together internally to find the needs and functional specifications of a PCP?  
00:30:45 Q&A: How do SMEs tend to react to the PCP process?
00:34:37 Presentation by Justė Rakštytė-Hoimian, Project Manager, Lithuanian Innovation Center, (iBuy) on Pre-Commercial Public Procurement Support Scheme
00:49:16 Q&A: You would you highlight from the procurement learning curve that you mentioned? And what are barriers to enter the procurement process? 
00:53:22 Presentation by Beatriz Gómez Fariñas, Legal Procurement Consultant from  Corvers on Pre-Commercial Public Procurement: Benefits and Challenges
01:10:22 Q&A: Can you share more details regarding venture capitalist opportunities?  
Panel discussion
01:13:04 Q&A: Can you give tips on how to organise a good open market consultation?
01:16:37 Q&A: Are there any intermediaries that procurement organisation can use to amplify their publications?
01:22:41 Q&A: What lessons and tips would you give to have a proactive exchange with the procurement specialists? 
Key learnings
From this webinar, we can highlight some key insights for public authorities willing to undertake Pre-Commercial Public Procurement process.
Innovation procurement follows specific procedures defined in EU directives. Several European instruments or initiatives are also available to support public procurers in their procedures, for example the European Assistance for Innovation Procurement (EAFIP) Toolkit.
Innovation procurement plays a growing role in EU funding programmes such as Horizon Europe, Innovation Fund, New Defense Progamme, Digital Europe. Several calls for proposals are open to support Innovation procurement and some initiatives, such as the European Digital Innovation Hubs (EDIH), foresee actions linked to innovation procurement, for instance, acting as central purchasing body.
Innovation procurement triggers important benefits from both demand and supply side, namely boosting business opportunities for SMEs and startups, as wells as providing higher quality solutions in public services solving real-life problems.
Open Market Consultations are a key element of success for Pre-Commercial Procurement implementation and the European Commission can be a facilitator for the consultations.
Another suggestion for public procurers is to have Procurement specialists in the Tender Commission.
A well-coordinated National or Regional financial support scheme, such as the Lithuanian Pre-Commercial Procurement Support Scheme can help public procurers in better defining their needs and removing potential barriers.
Effective training and awareness raising for public procurers are essential to encourage them to undertake Pre-Commercial Procurement procedures and buy R&D services for innovative solutions in the public sector.
Presentations
Download the presentations below.