How to support positive energy districts and district level deep renovations?
Image
Matchmaking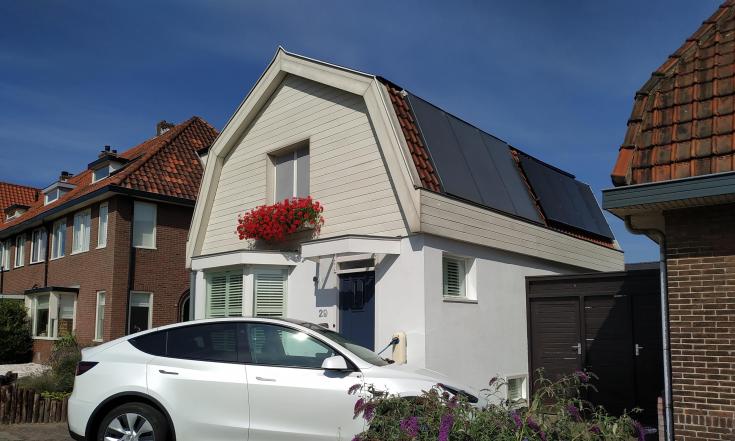 On 1 June 2023, the Policy Learning Platform organised a matchmaking at the request of Energy Cities to explore how to support positive energy districts (PEDs) and district level deep renovations. To reach our decarbonisation targets, interventions need to be at a larger scale, rather than single technology solutions or single building renovations.
Energy cities connects its 1000 members to learn from each other, advocates for local needs at the EU level, and develops projects to help in urban decarbonisation. Energy Cities wanted to better understand how to define the district level and how to create the integrated approach needed for district level actions. The matchmaking was held in Ghent, following the workshop on 'Modern green districts''.
Host and participants
Beneficiary
Matchmaking Peers
Lorenzo Federiconi, Department of Infrastructure, Territory and Civil Protection, Marche Region, Italy  (LC District, EXPRESS)
Michael Doran, EU Projects Manager, South East Energy Agency, Ireland (EXPRESS)
Rumyana Grozeva, Executive Director, Stara Zagora Regional Economic Development Agency, Bulgaria (DECARB)
Interreg Europe Policy Learning Platform &

Joint Secretariat
Key insights
Positive energy districts produce enough energy to sustain themselves, with citizen ownership of renewable energy technologies, and positive impacts not only on energy and climate issues, but also on social cohesion. A bottom-up approach helps in the shift to renewables by bringing on board all sorts of actors from the district.
Rather than speaking about a PED as a policy objective, it is easier to motivate and mobilise stakeholders, including citizens, when local authorities develop inspiring future visions for a vibrant green district where citizens and businesses can thrive (a goal everybody can easily buy-in), and derive the energy, mobility, housing and land-use action plans from such a vision.
Governance and management: attracting private finance, bringing together different policy and funding initiatives, managing the interests of multiple owners and stakeholders, or ensuring social inclusion require important resources. Also, reacting to new and ever-changing EU policy initiatives such as the EU Bauhaus and Nearly Zero-Energy Buildings requirements is a constant challenge.
Mainstreaming the results of projects: at the EU level we need strategies for upscaling lighthouse projects, with a systemic approach for tackling energy challenges and improving communication and awareness.
Cities need more resources: not only money but also time and skills. Projects should fund place-based initiatives, not only thematic projects. An Energy Cities study found that some 200,000 new jobs are needed to enable the energy transition. It is difficult to get the climate and energy expertise required, especially for smaller cities.
Siloed thinking is a major blockage, with each organisation or department having its own targets and goals, and not looking to other societal challenges. A top-down framework to set the overall direction, with bottom-up identification of district projects, can be a solution.
Energy Cities is working on several projects such as ATELIER which aims to create and replicate PEDs in two lighthouse cities and six fellow cities, and Cities4PEDs, which is focused on building capacity and a PED toolkit. Moreover, the Affordable Housing Initiative SHAPE-EU, aims to include vulnerable members of society in the transition, and provides a support programme for district-level social and affordable housing renovations to projects.
The Marche region of Italy participated in the LC Districts project to identify approaches for low-carbon districts: areas with homogenous characteristics where integrated approaches for social, cultural, economic, environmental and energy improvements can be made, needing a single, integrated strategy.
Marche aims to design low-carbon districts by applying the ITACA Protocol which assesses the energy and environmental sustainability of buildings and verifies their performance. The region has harmonised its planning documents, namely the Regional Energy and Climate Plan, which contains strategies, actions and tools to pursue climate and energy objectives, with their ERDF Operational Programme, so that proposals with higher ITACA certification scores get higher evaluation results.
It is difficult to define what a 'district' is – it can be a few buildings, or several hundred. It is better to keep the definition loose to enable a grouping of actors to define an area to their needs. The district needs to be defined as the functional level at which the specific challenge can be tackled.
Support can be provided to communities to help them decarbonise multiple buildings at once, for example, via Irelands' Sustainable Energy Communities Programme, whereby an energy mentor is assigned to help the community to develop an energy master plan and identify projects to implement, as well as getting access to training events and webinars.
Relevant projects and policy briefs
As well as the projects mentioned above, other Interreg Europe projects and policy briefs can provide additional information on district and community approaches: