Active and Healthy Ageing
Image
Story
The European population is ageing fast. There were 101.1 million older people—aged 65 years or more— living in the EU-28 at the start of 2018, that is 19.7 % of the total population (EUROSTAT). The number of older people in the European Union (EU) is projected to follow an upward path, peaking at 149.2 million inhabitants (28,5 % of the total population) in 2050 (see Map 1 for the distribution of older people in the EU and Figure 2 for projected age pyramids in the EU in 2050 compared to 2019). The ageing population is the result of a long-term fall in fertility rates (reaching 1.55 live births per woman in 2018 in the EU) and increased life expectancy (reaching 81.0 years in 2018 in the EU). 
Image
Map 1. People aged ≥65 years, by NUTS level 2 regions, 2019 (% share of total population). Source: EUROSTAT. 
Image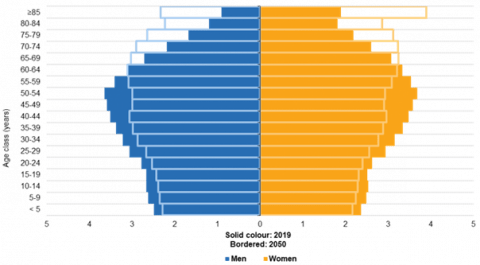 Figure 1. Population pyramids, EU-27, 2019 and 2050 (% share of total population. Source: EUROSTAT.
The ageing population will translate into different demands for health-related products and services and requiring an overall reorganisation of leisure. The promotion of healthy ageing is thus a growing policy priority. The European Commission is thus promoting active and healthy ageing to 'help people stay in charge of their own lives for as long as possible as they age and, where possible, to contribute to the economy and society' (European Commission). For instance, the European Innovation Partnership in Active and Healthy Ageing (EIP on AHA) is an initiative launched by the European Commission to foster innovation and digital transformation in the field of active and healthy ageing. The objectives of the partnership are: 
To improve the health and quality of life of Europeans with a focus on older people,
to support the long-term sustainability and efficiency of health and social care systems,
to enhance the competitiveness of EU industry through business and expansion in new markets. 
Active and healthy ageing is mostly covered in five Interreg Europe projects:
Interreg Europe projects have identified many good practices to foster active and healthy ageing and can inspire European regions to deliver better policies regarding this societal challenge. 
Active and healthy ageing require age-friendly infrastructures. In ITHACA, 'Quartier 2020' in Stuttgart, Germany, provides a toolkit to support local stakeholders to promote more inclusive and age-friendly neighbourhoods. Indeed, active and healthy ageing require urban policymakers to adapt neighbourhoods to become more inclusive and have age-friendly assistive equipment and technologies. Quartier 2020 includes many actions ranging from helpdesk to networking opportunities and a large range of funding opportunities to provide age-friendly amenities. 
Testbed can be created to test assisted age-friendly infrastructures and digital healthcare solutions. In ITHACA, the LebensPhasenHaus (LPH) in Tübingen, Germany, is a physical space to promote co-creation, experimentation, product and service demonstration and testing for active and healthy ageing. The LPH facilitates the development and deployment of assistive age-friendly solutions by involving end-users, working as a testbed, and diffusing knowledge related to active and healthy ageing. A public-private partnership is a potential way to fund such innovation infrastructures. 
Community-involvement can foster active and healthy ageing. In EU_SHAFE, Drogheda and District Support 4 Older People (DDS4OP) offers an example on how to involve older residents into the community. It shows that simple activities can have a tremendous impact on older residents' wellbeing and community involvement. In the City of Drogheda, Ireland, this was achieved through activities such as Good Morning Drogheda, the Care and Repair Team, Computer Classes, Fáilte Isteach, Befriending Drogheda, and Support. The good practice highlights the importance of volunteering, leadership, coordination, and animation to pursue such community-involvement approach. The good practice can inspire local and regional policymakers to design socially inclusive and mutually beneficial activities that connect older residents with the wider community. 
It is important to involve civil society to address the complex societal challenge of active and healthy ageing. In EU_SHAFE, [email protected] is an open platform to gather relevant stakeholders to promote active and healthy ageing in Centro Region, Portugal. The good practice offers an example of quadruple helix collaboration to promote active and healthy ageing in an integrated manner. Task force initiatives, such as the one in the Basque Country, Spain, involving civil society stakeholders can reflect and contribute on care legislation, regulations, and projects for older residents. The good practice highlights the importance of using active participation methodology, coordination with a task force secretary, and frequent meetings to ensure that civil society stakeholders can effectively contribute to policy design. 
Telemedicine can promote independent ageing. In HoCare, the Nicosia Development Agency (ANEL), Cyprus, introduced a policy change to enhance e-health care in Cyprus. The Agency was inspired by the Slovenian good practice Ekosmart, which allows users to continue living independently at home by using integrated healthcare technologies, to identify the need for interventions in case a user cannot make call emergency services due to a health condition. The Development Agency's work led to interest from the Cypriot Ministry of Health, which mobilised 400,000 euros of local Structural Funds to enable Cypriot hospitals to adopt similar telemedicine technologies (see 30 stories about Interreg Europe results).